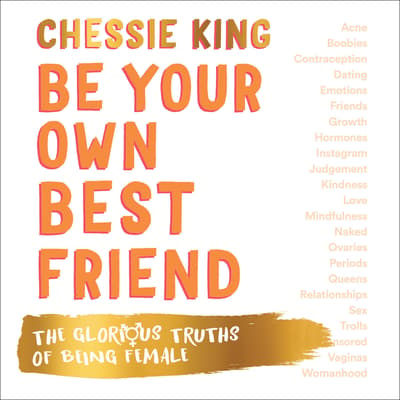 Format :

CD

(In Stock)
Regular Price: $34.99

Special Price $17.50

ISBN: 9780008443498

Free shipping on orders over $35

In Stock ● Ships in 1-2 days

Regular Price: $39.99

Special Price $20.00

ISBN: 9780008443504

Free shipping on orders over $35

In Stock ● Ships in 1-2 days
This book is a celebration of… Your best friend Your cheerleader Your soulmate YOU Let these pages be a constant reminder that you are absolutely spectacular, just the way you are – every part of you, inside and out. Pull up a comfy seat in my brain and let's unravel all the delightfully complex layers that make us whole. Together, we will navigate our way through finding confidence, delve into lessons we wish we'd been taught at school and become the CEOs of our busy minds. You'll strengthen your relationship with your body, your brain and all the phenomenal humans in your life. Whether you're a parent wanting to help your teenager through the turbulence of puberty, a partner searching to understand your girlfriend or just really want to know how to become your own best friend, I'm here to guide you through. An enormous, endless amount of love, Chessie x
Learn More
Summary
This book is a celebration of…
Your best friend
Your cheerleader
Your soulmate
YOU
Let these pages be a constant reminder that you are absolutely spectacular, just the way you are – every part of you, inside and out.
Pull up a comfy seat in my brain and let's unravel all the delightfully complex layers that make us whole. Together, we will navigate our way through finding confidence, delve into lessons we wish we'd been taught at school and become the CEOs of our busy minds. You'll strengthen your relationship with your body, your brain and all the phenomenal humans in your life.
Whether you're a parent wanting to help your teenager through the turbulence of puberty, a partner searching to understand your girlfriend or just really want to know how to become your own best friend, I'm here to guide you through.
An enormous, endless amount of love,
Chessie x
Details
Available Formats :
CD, MP3 CD
Category:
Nonfiction/Self-Help
Audience:
Adult
Language:
English
To listen to this title you will need our latest app
Due to publishing rights this title requires DRM and can only be listened to in the Audio Editions app
DRM (Digital Rights Management) is a copyright protection for digital media. While much of Audio Editions's content is DRM free, and allows for usage across platforms, select products on Audio Editions are required by publishers to have DRM protected files. These products will be playable exclusively on the AudioEditions.com apps, available for iOS and Android devices.
To listen to this title you will need our latest app