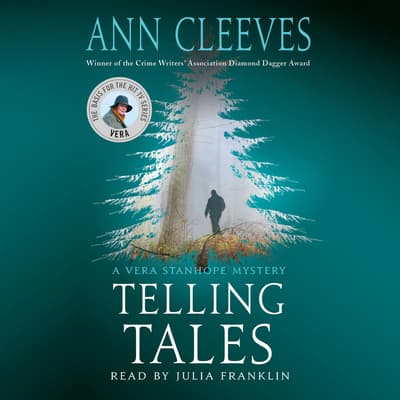 Format:

CD

(In Stock)
Regular Price: $50.99

Special Price $40.79

ISBN: 9781427288417

Free shipping on orders over $35

Usually Ships within 2-3 days
"Demonstrating singular adeptness with mood and pacing, narrator Julia Franklin shines in this character-rich mystery set in northern England...Franklin's performance is direct and punchy, matching the speed and shrewdness of Vera's first-rate mind." — AudioFile Magazine It has been ten years since Jeanie Long was charged with the murder of fifteen-year-old Abigail Mantel. Now residents of the East Yorkshire village of Elvet are disturbed to hear of new evidence proving Jeanie's innocence. Abigail's killer is still at large. For one young woman, Emma Bennett, the revelation brings back haunting memories of her vibrant best friend--and of that fearful winter's day when she had discovered her body lying cold in a ditch. As Inspector Vera Stanhope makes fresh enquiries on the peninsula and villagers are hauled back to a time they hoped to forget, tensions begin to mount. But are people afraid of the killer or of their own guilty pasts? With each person's story revisited, the Inspector begins to suspect that some deadly secrets are threatening to unfurl…
Learn More
Summary
Among shortlisted titles for Audie Award Finalist, 2018
"Demonstrating singular adeptness with mood and pacing, narrator Julia Franklin shines in this character-rich mystery set in northern England...Franklin's performance is direct and punchy, matching the speed and shrewdness of Vera's first-rate mind." — AudioFile Magazine
It has been ten years since Jeanie Long was charged with the murder of fifteen-year-old Abigail Mantel. Now residents of the East Yorkshire village of Elvet are disturbed to hear of new evidence proving Jeanie's innocence. Abigail's killer is still at large.
For one young woman, Emma Bennett, the revelation brings back haunting memories of her vibrant best friend--and of that fearful winter's day when she had discovered her body lying cold in a ditch.
As Inspector Vera Stanhope makes fresh enquiries on the peninsula and villagers are hauled back to a time they hoped to forget, tensions begin to mount. But are people afraid of the killer or of their own guilty pasts?
With each person's story revisited, the Inspector begins to suspect that some deadly secrets are threatening to unfurl…
Editorial Reviews
Creates a dark enough mood to keep you straining to see what will come to light next. —People Magazine
Cleeves offers up evocative settings and flawed characters with depth, making her mysteries wonderfully addictive. Her latest is no exception. —Library Journal
A nice mixture, in the British tradition, of social comedy and detective work. More Vera, please. —Booklist
It's a dark, interesting novel with considerable emotional force behind it. —The Spectator
Nothing short of riveting. —Louise Penny, New York Times bestselling author
I do love Vera!
—
Val McDermid, bestselling author
"Demonstrating singular adeptness with mood and pacing, narrator Julia Franklin shines in this character-rich mystery set in northern England. ...While Franklin's careful portrayals of persons of interest are clear and emotionally detailed, it's her portrayal of Vera that steals the show. Though much is made of Vera's appearance--she's squat and disheveled--she is not to be underestimated. Franklin's performance is direct and punchy, matching the speed and shrewdness of Vera's first-rate mind. —AudioFile
"Nobody does eerie like Ann Cleeves in her immensely popular Vera Stanhope mysteries." —Booklist (starred review) on The Moth Catcher
"Cleeves expertly handles the interplay among Vera—outsized both in stature and personality—her staff, and the villagers…Top-notch." —Publishers Weekly (starred review) on Harbour Street
"Cleeves offers up evocative settings and flawed characters with depth, making her mysteries wonderfully addictive." —Library Journal (starred review) on Harbour Street
Details
Available Formats :
CD
Category:
Fiction/Mystery & Detective
Audience:
Adult
Language:
English
To listen to this title you will need our latest app
Due to publishing rights this title requires DRM and can only be listened to in the Audio Editions app
DRM (Digital Rights Management) is a copyright protection for digital media. While much of Audio Editions's content is DRM free, and allows for usage across platforms, select products on Audio Editions are required by publishers to have DRM protected files. These products will be playable exclusively on the AudioEditions.com apps, available for iOS and Android devices.
To listen to this title you will need our latest app