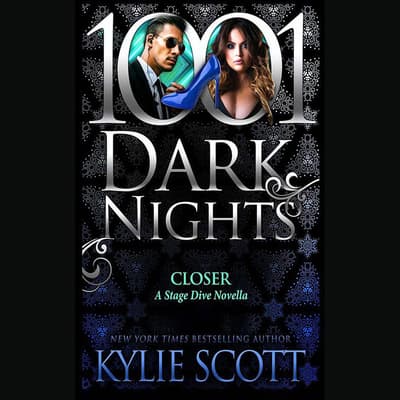 Format:

CD

(In Stock)
Regular Price: $24.99

Special Price $16.24

Available on 12/06/2020

ISBN: 9781713550273
From New York Times and USA Today best-selling author Kylie Scott comes a new story in her Stage Dive series.... When a stalker gets too close to plus-size model Mae Cooper, it's time to hire some muscle. Enter former military man turned executive protection officer Ziggy Thayer. Having spent years guarding billionaires, royalty, and rock'n'roll greats, he's seen it all. From lavish parties through to every kind of excess. There's no reason some Instagram stylista should throw him off his game. Even if she does have the most dangerous curves he's ever seen.... *Every 1001 Dark Nights novella is a stand-alone story. For new listeners, it's an introduction to an author's world. And for fans, it's a bonus book in the author's series. We hope you'll enjoy each one as much as we do.*
Learn More
Summary
From New York Times and USA Today best-selling author Kylie Scott comes a new story in her Stage Dive series....
When a stalker gets too close to plus-size model Mae Cooper, it's time to hire some muscle.
Enter former military man turned executive protection officer Ziggy Thayer. Having spent years guarding billionaires, royalty, and rock'n'roll greats, he's seen it all. From lavish parties through to every kind of excess.
There's no reason some Instagram stylista should throw him off his game. Even if she does have the most dangerous curves he's ever seen....
*Every 1001 Dark Nights novella is a stand-alone story. For new listeners, it's an introduction to an author's world. And for fans, it's a bonus book in the author's series. We hope you'll enjoy each one as much as we do.*
Details
Available Formats :
CD
Category:
Fiction/Romance
Audience:
Adult
Language:
English
To listen to this title you will need our latest app
Due to publishing rights this title requires DRM and can only be listened to in the Audio Editions app
DRM (Digital Rights Management) is a copyright protection for digital media. While much of Audio Editions's content is DRM free, and allows for usage across platforms, select products on Audio Editions are required by publishers to have DRM protected files. These products will be playable exclusively on the AudioEditions.com apps, available for iOS and Android devices.
To listen to this title you will need our latest app